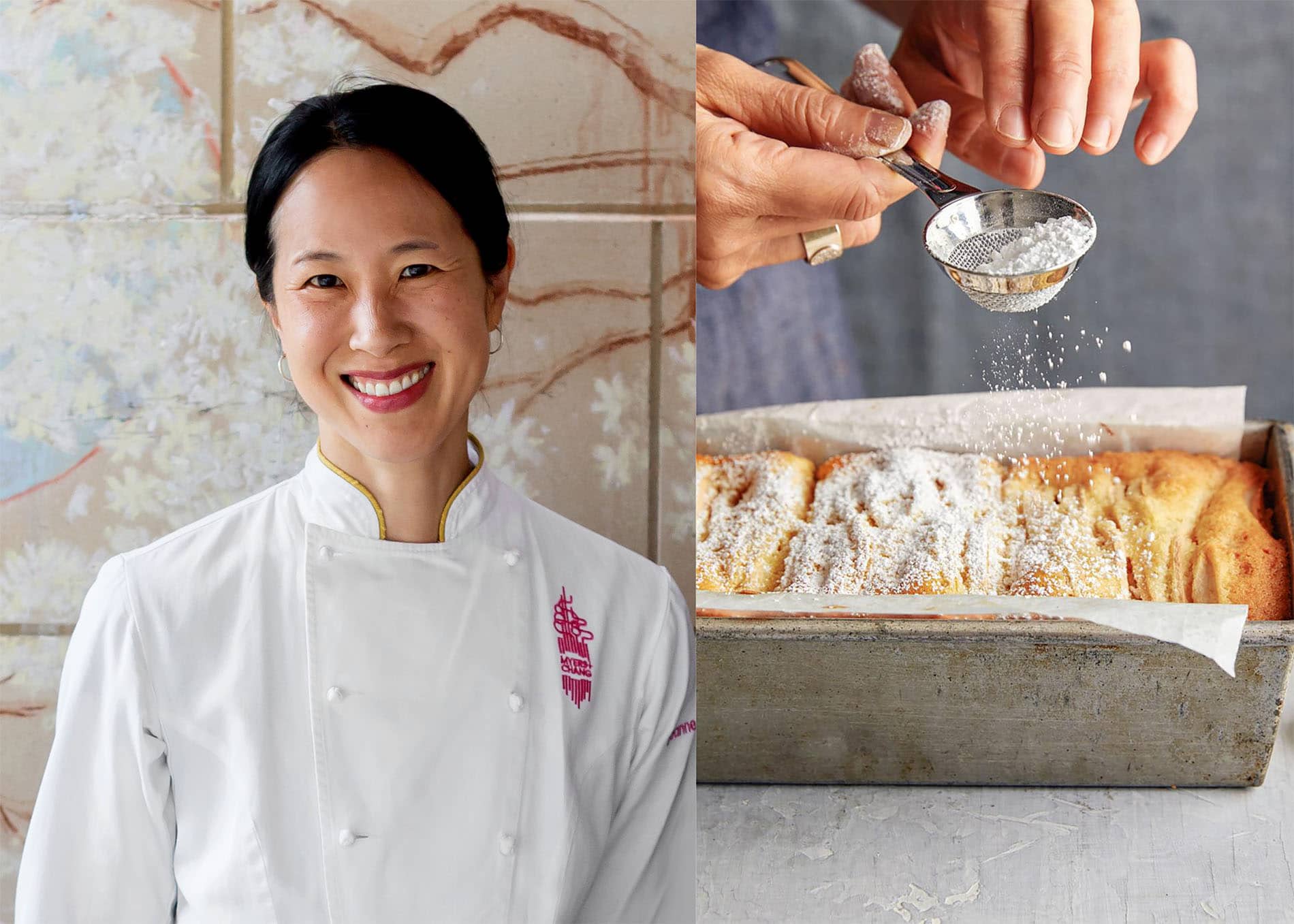 How Joanne Chang Became a Celebrated Pastry Chef
Known as one of the most decorated and popular bakeries in America, Flour Bakery + Café opened its doors at the turn of the century. Fast forward to 2021, there are now ten locations scattered throughout the Boston area along with its headquarters (known lovingly as the Breadquarters). With the modern Chinese restaurant Myers+Chang also under the same umbrella, it is a certifiable culinary empire.
Yet none of them would have existed had owner/chef Joanne Chang stayed on her original career path. Born from Taiwanese parents in Houston, she grew up in Oklahoma and Texas with lots of home cooking. She attended school at Harvard University, initially to study astrophysics, and then switched to applied mathematics and economics.
Though she had no idea what the job title meant, Ms. Chang accepted a position as management consultant after graduation to work for the Monitor Group in Cambridge, Massachusetts. She spent two years traveling around the country in that role, helping big corporations sort out various problems within their organizations. Working on videoconferencing for AT&T (similar to today's Zoom or Skype), insurance practices for John Hancock, logistical study for Verizon and other high-profile projects was a good job, but she felt that it was not going to be her job forever.
As a hobby at the time, Ms. Chang baked cookies on the side and sold them to friends and family. "I called it 'Joanne's Kitchen' and I probably made a few hundred dollars total," she says. "I am sure I spent more on making the cookies than I made."
However, she had a clear passion for it. So she decided to make a change. "After two years at Monitor, I decided to take a year off from wearing a suit and heels and try and get a job in a restaurant kitchen," she says. "I had always loved to cook and bake and eat so it seemed like a great way to spend a year and see what else was out there."
"My first job was at a restaurant called Biba and I was the appetizer cook for a year. I loved it. I knew I wasn't going to go back to the office once I started working in a professional kitchen," she says.
She continued to learn and grow from different places like Bentonwood Bakery, Rialto Restaurant, Payard Patisserie, and Mistral Restaurant. In 2000, she fulfilled the dream of owning her own pastry shop as the first Flour Bakery + Café opened. Along the way, she won accolades like the 2016 James Beard Outstanding Baker award and the 2018 Outstanding Chef semifinalist. She also beat Bobby Flay in a sticky bun throwdown on TV's Food Network.
In Ms. Chang's mind, her analytical knowledge from school and previous work—dealing with math, economics and consulting—taught her how to identify problems and come up with solutions. "My experiences were invaluable in training me to be a clear communicator and in helping me understand the importance in making connections with those around me," she says.
Another characteristic she finds helpful in her current career work is patience. "There is a lot of waiting…and stirring…and kneading…and scooping…and little bitty tasks that all take a lot of attention and patience," she says.
Growing up eating a traditional Chinese diet, she did not partake in many sugary sweets. As a pastry chef now, she had to alter her recipes as she finds "a lot of American pastries (are) pretty sweet". As a result, when she makes her baked goods, she needs to adjust the recipes accordingly to reflect her taste.
In addition to bringing the sugar level down to a healthier level, she is also a stickler for texture. "I'm obsessed with texture—tender needs to melt in the mouth, crispy has to be super crunchy, layers have to shatter, chewy (for bread) should make my jaw sore from chewing," she says.
Known not only as a great chef and as a skilled entrepreneur, Ms. Chang is also a successful author with five cookbooks under her belt as well as numerous magazine and newspaper articles. She loves to write and teach; therefore, she feels that writing cookbooks and articles are great ways to marry both interests.
When it comes to the role of women within the culinary industry, she never thought it was truly an issue. "I was lucky to have many, many awesome female mentors and bosses," she says. "In my mind, if you are an awesome creator of amazing food, a strong passionate communicator, dedicated to teaching your team and motivated by offering people a great experience, then you will succeed in this business." For her, open communication among the cooks is a major part of Flour's mission: to make the best food they can, to offer it with the best service they can, and still have fun while doing it.
On a more personal note, as great a chef as she is, there is somebody else in her family that could out-cook everyone.
"My Auntie Mia in Taiwan is by far the best! Even my mom admits to that," she says. "When we were getting ready to open Myers+Chang, we knew we needed Auntie Mia to help train our cooks. She doesn't speak English but in the kitchen you could do and teach a lot without a common language. Or you could say that FOOD is the common language!"
"She flew from Taiwan to Boston, worked with our chef and taught her tricks and tips along with her famous spring rolls. I still remember her frying dozens of spring rolls; which we all proceeded to eat and eat and eat until we couldn't move (because) we were so full. But they were SO good it was worth it!"
Asked to choose her favorite items to eat, Ms. Chang says that she loves pizza and sushi on the savory side. The choices, however, became a lot harder for the sweet items. "My favorites are croissant, ice cream, our double chocolate cookie, our cheesecake, our Kouign Amann and our pain aux raisins," she says. In addition, the strawberry chiffon cake from her latest cookbook is also another hit—"It is a light, tender sponge cake filled with whipped cream and sugared strawberries. Super simple and irresistible."
Everything sounds mouthwatering and we wish we could have them all!
Written by Cary Wong
Photo credit Kristin Teig