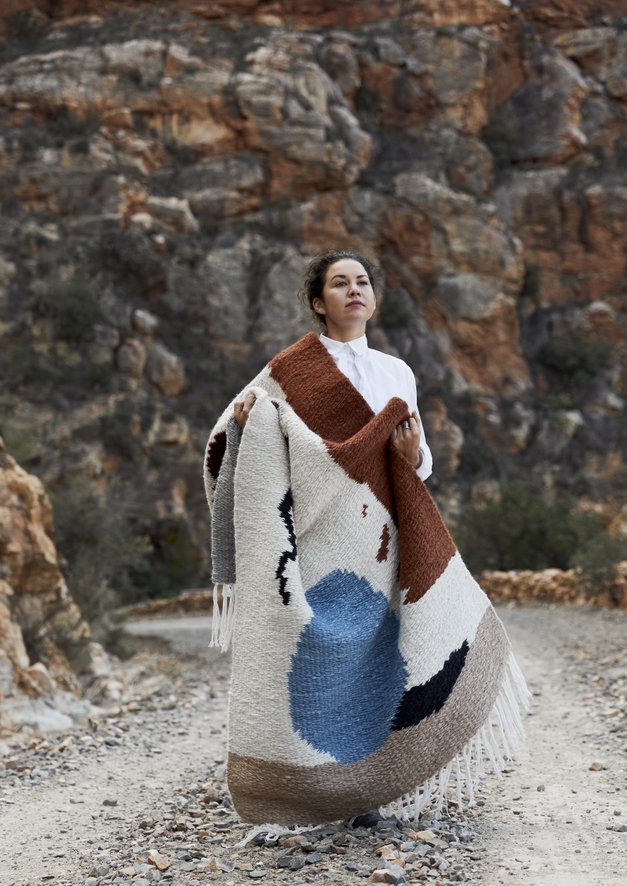 Maker, designer, and entrepreneur Frances van Hasselt
creates beautiful mohair rugs that reflect all the uniqueness of their origins in the South African Karoo
T
he arid, semi-desert landscapes of South Africa's central Karoo region are an acquired taste. This is a place where extreme harshness—scorching heat on summer days, icy cold on winter nights—coexists with the delicate beauty of indigenous plant life, and where the bone-dry air is scented with dust yet still exquisitely clean and crisp. Sunrise and sunset are soft and subtle moments, the land stretches seemingly endlessly to the distant horizons, and the sky feels somehow higher above one's head than it does elsewhere. The people of the Karoo are special too: friendly to every visitor, yet with an inner reserve that reflects the elusive nature of the place in which they live and work. This is also an area renowned for its exquisite mohair. The mohair fibres produced by the angora goats of the Karoo are some of the very best in the world, prized around the globe (and most especially, in the textile centres of Italy and Japan). In South Africa itself, the exceptional quality of local mohair is not as well known. Partly as a result of this, almost all of it is exported as a raw material, to be spun, dyed, and woven elsewhere. Which is why, as designer, rug maker, and Karoo native, Frances van Hasselt explains, it was only once she had spent some time working in the international fashion industry that she "came to realise how incredibly special and unique mohair is."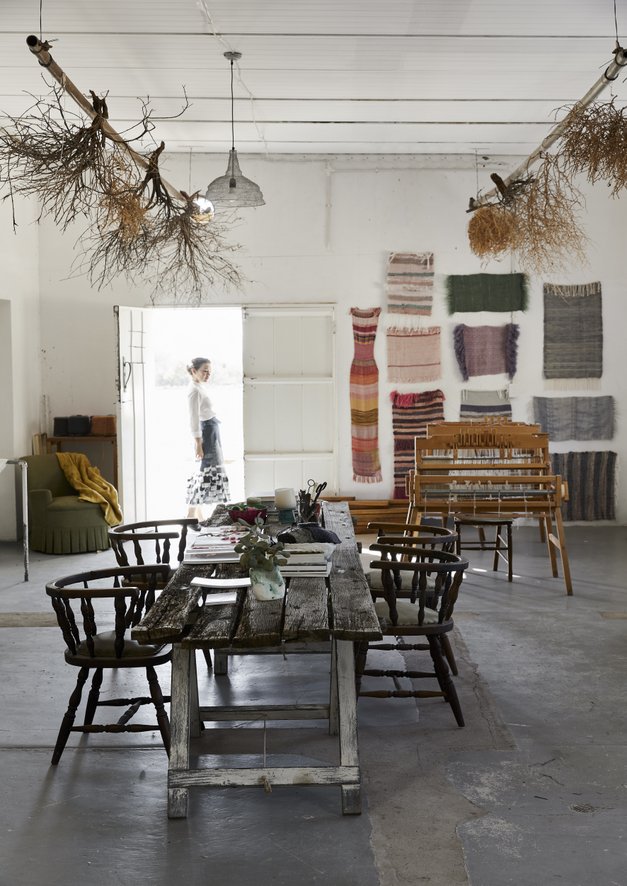 The Karoo is an arid yet uniquely beautiful part of South Africa. "Our rugs are inspired and informed by the places, spaces and people of the Karoo," says Frances. "We try to replicate its dusty plains, the rich colours of delicate vegetation, its textured landscapes and crisp light."
Frances had always known about mohair: she grew up on the van Hasselt family farm, which is located outside the small town of Prince Albert and includes one of the oldest angora goat studs in South Africa. The mohair produced by those goats is an integral part of her heritage. No wonder then, that she "became determined to produce a local product… that highlights [mohair's] unique and desirable qualities." The result of that resolution is Frances V.H Mohair Rugs.
Making one of her rugs is a uniquely creative process for Frances. "When I am in the Karoo, I make sure that I spend time outside walking, as this is where most of my ideas and inspiration come from," she says. The light and the colours, the patterns formed by the region's gravel roads and folded mountain ranges—all of these unique signifiers of place are reflected in her graphic designs. These might be inspired by "the tiniest folds of a veld flower or the balancing act performed by rock formations," she says—adding that for her, nature's most valuable lesson is that "of simplicity."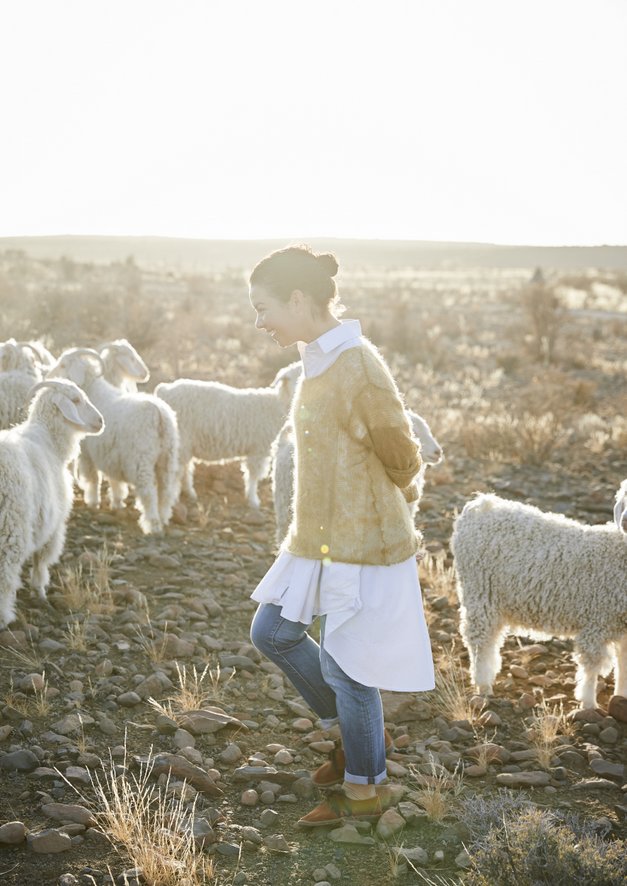 Frances van Hasselt on her family farm in Karoo
Furthermore, in Frances' view, "a sustainable, circular economy does not start in factories." For this designer-maker, weaving and finishing a rug are the last few steps on an intricate supply chain that "starts with rain, the delicate ecosystem of the veld (landscape), the role of herdsmen, the importance of healthy animals to produce quality mohair." She's also very aware that the resulting raw fibre also has to undergo multiple processes—washing, cleaning, dyeing, and spinning, most of which is done by hand—before the yarn ends up on her loom.
As Frances takes care to explain, her rugs also reflect more than one single person's creativity: she is a collaborator, both with her clients and with local traditional textile workers. Another of Frances V.H's aims is to offer sustainable employment and training in a part of the world where jobs are scarce.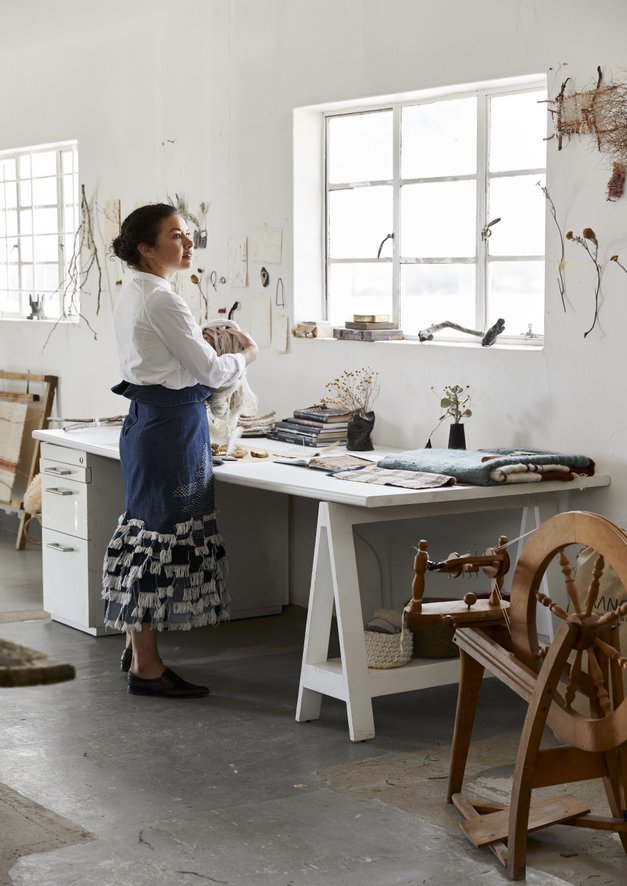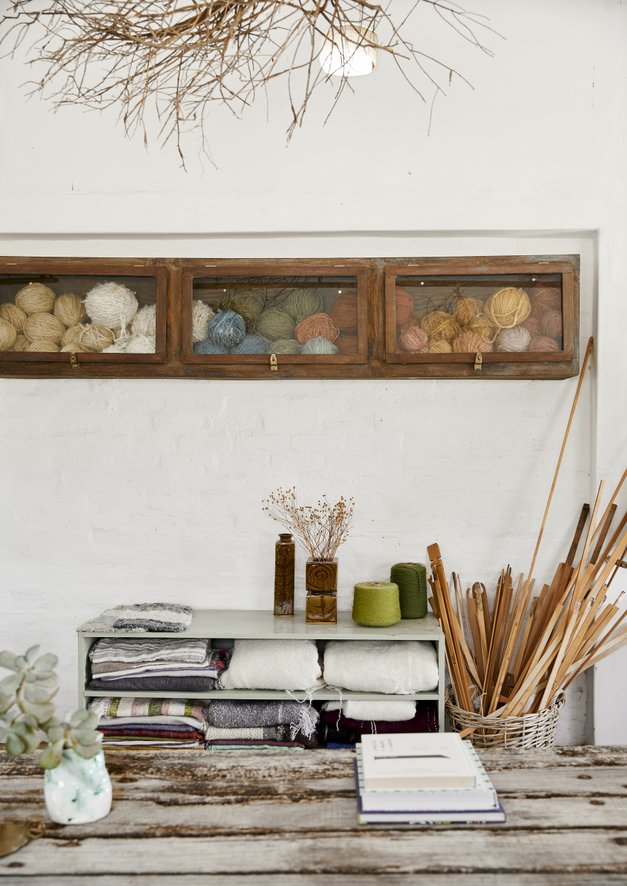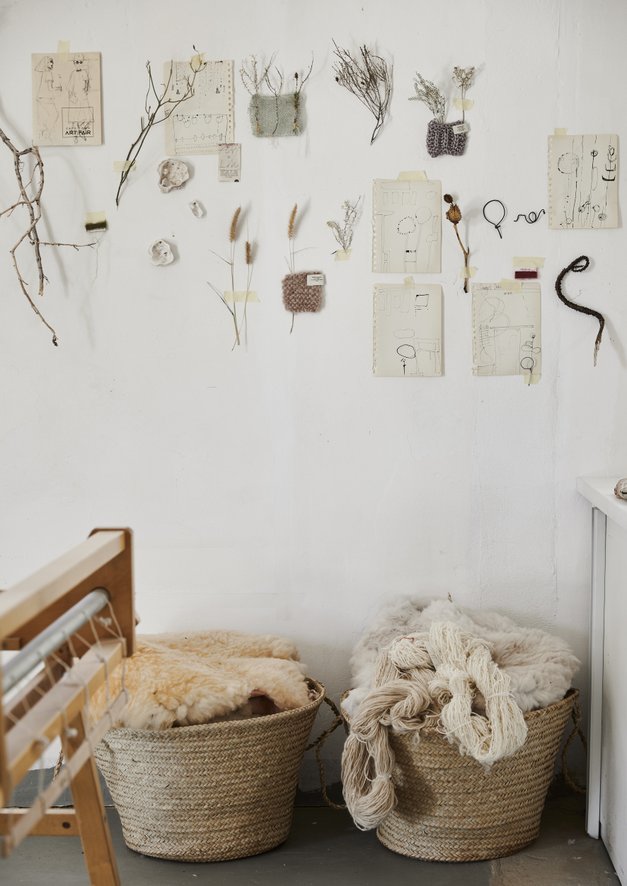 The studio makes use of a variety of looms to hand-weave rugs.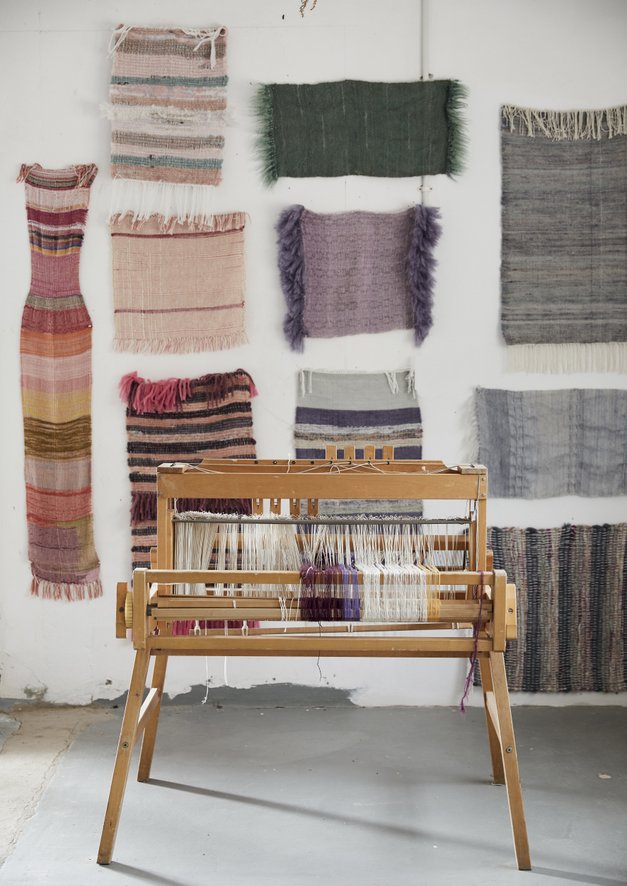 Hasselt tries to replicate Karoo's dusty plains, the rich colors, textured landscapes and crisp light.
One result of this multifaceted approach to what she creates is that no two days of Frances's working life are the same. She spends time finding her inspiration in the Karoo landscape around her, formulating her designs, and collaborating with clients. "All our work is made to order, so I have a very close relationship with clients," she says.
But she is also occupied with promoting the Frances V.H brand, sharing its story with the world, and of course, "there is always something happening in the studio, from dyeing yarns, to spinning, weaving up new orders or playing around with different finishes." And as this is a working farm, there's plenty of everyday administration, logistics, packaging of orders, and fixing of equipment forming an inevitable part of running a business such as hers too.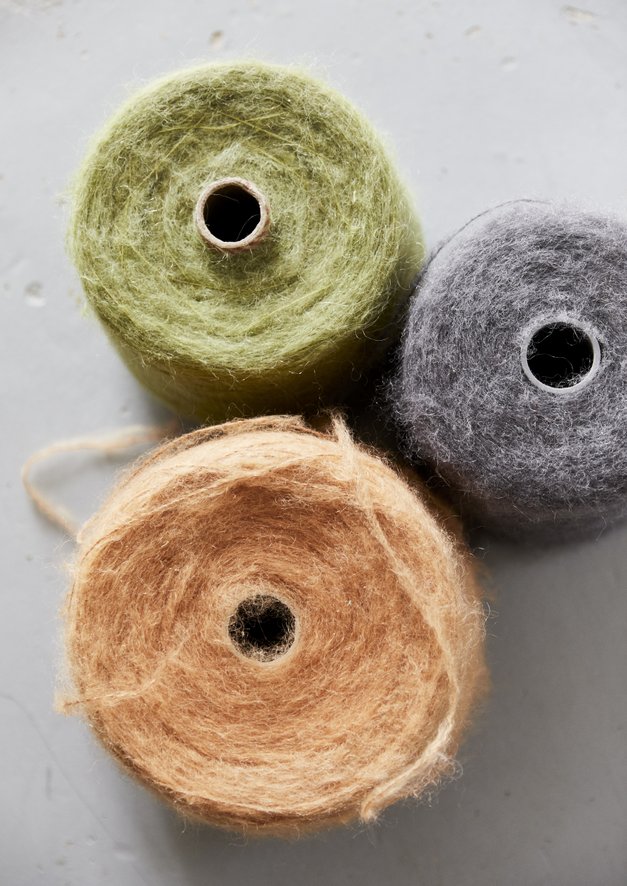 Reflecting both the uniqueness of the Karoo's ever-changing landscapes and her personal passion for mohair as a fibre, Frances's rugs demonstrate her view that "South African mohair should be recognised in the same way cashmere is in Scotland or alpaca in Peru—and to achieve this we need to create exceptional locally made, finished products." This is why Frances V.H creations are luxurious in the most contemporary sense: not as a result of being costly, but because Frances' captivating rugs encapsulate what she describes as a "worldview" that is all about "clean air, open spaces, an appreciation for nature, meals around a table with friends and family, and building a home in which you feel safe, calm and functional."